Anyone who uses a forklift in a factory, warehouse or worksite to move and store boxes and pallets understands their value, however, with the help of some nifty attachments, forklifts can become a versatile warehouse tool for moving, lifting, and unpacking a wide variety of materials.
Rubbish Disposal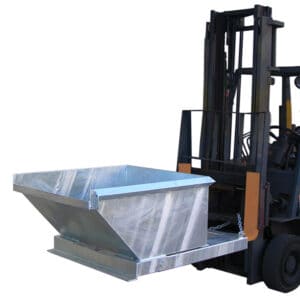 Forklift tipper bin attachments and dumpers allow you to safely and effectively tip your rubbish, rocks, gravel, or wheelie and recycling bin load.
There are bin tipper attachments to help you get rid of numerous types of waste, including:
Forklift Bin Tippers
Bottom Dump Bins
Bulk Bin Tippers
Recycling Dump Bins
Wheelie Bin Tippers
Scrap Hoppers
Shipping Container Unpacking
Although not attached directly to the forklift, forklift container ramps can turn your forklift into a handy shipping container packing tool. The container ramps are custom-designed to access shipping containers and provide options such as self-levelling and pallet truck access. Bi-fold ramps allows the forklift operator to approach the container straight on, while fixed ramps are fitted with pockets on each side to allow side shifting to the container door access.
Drum Handling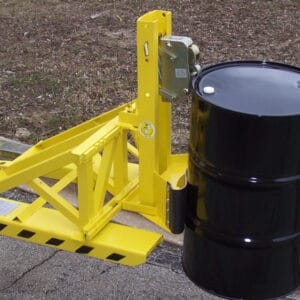 Forklift drum handlers will help you move your steel drums with our automatic drum clamp, save your back and make lifting, raising and tilting a breeze with our forklift drum rotators, invert your drums for racking and horizontal storage with our drum inverter, or manage high volume lifting with our heavy drum lifter. There are a variety of drum handling attachments including:
Drum Clamps
Handlers
Inverters
Lifters
Rotators
Cleaning
Transform your forklift into a highly efficient cleaning tool by adding a forklift broom attachment!
Broom attachments allow you to sweep away litter, cans, cartons and gravel with your forklift or tractor.
You can also sweep or move grain, sand, rocks, glass, mud, leaf debris and many other materials.
Front End Loading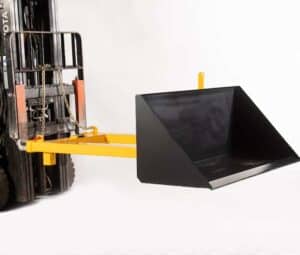 A forklift bucket attachment turns your forklift into a front-end loader!
Pick up large quantities of dirt, sand and other materials quickly and efficiently from the ground and move them into high containers and truck beds.
Want to know more?
Check out the full range of Bremco forklift attachments or contact the team today to discuss how we can help you with your next forklift attachment. We can even custom engineer and build an attachment to suit you!