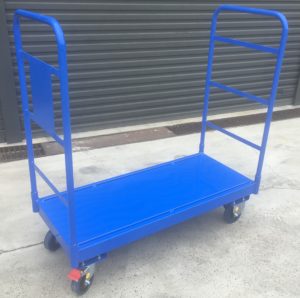 In August 2017, Australia Post identified the need for a number of custom warehouse trolleys to suit processing around new mail sorting automation.
Based on the experience of other postal organisations, an existing trolley from a German manufacturer was originally considered. Wanting to involve local manufacturers if possible, Australia Post approached Bremco Metal Products.
Working closely with Australia Post to develop a prototype trolley, submitting 3D drawings for approval, and refining the solution with a number of samples, Bremco's warehouse trolley design was approved by Australia Post.
The Bremco pricing per unit was also competitive with the German trolleys, which was further incentive for Australia Post to order a locally made product.
Australia Post Requirements
Australia Post needed to design the trolley to improve the ergonomics and efficiency around the new automation. These product specifications included:
Fixed based height to suit the variety of staff at Australia Post
Trolley needed to securely hold 12 mail compartments
Easy access from both sides of the trolley
Multi-coloured (colour-coded) finishes for different sorting sections
High quality castors for longer life
Removable twin handles to assist with materials handling access
Quality powder coated finish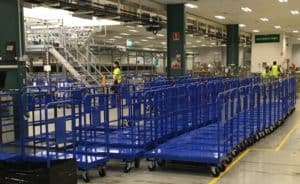 The Australia Post Northgate Mail Centre purchased 160 units and their Melbourne site purchased a further 100 units.
Jadd Brammall, Automation Program Manager at Australia Post, was responsible for implementing the Large Letter Storage Trolley into both sites.
Jadd was very satisfied with Bremco's work.
"It was fantastic to be able to work with Bremco to develop the custom trolleys we needed. They made the design and production process easy and being local it made it much more efficient incorporating staff feedback into the final design."
To find out more about Bremco's custom metal fabrication services, contact the Bremco team today. You can also view Bremco's warehouse trolley range here.