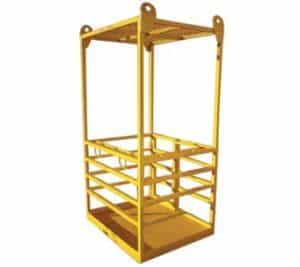 Bremco crane man cages ensure the safe lift of people at your work site, factory, warehouse or workshop.
Our crane man cages are engineered and manufactured in our Australian factory in strict accordance with Australian safety standards AS1418.17 and have a design registration certificate for all models.
Types of Man Cages
Our crane lift man cage range all come with standard four point lift and harness attachments points and include:
Single Man Cages
Suitable for use in confined spaces.
Two Man Cages Without Roof
For cost effective lifting of two people using an overhead crane system.
Two Man Cages With Roof
Allows two people to be lifted using an overhead crane system with roof for maximum safety.
First Aid Cages
Allows lifting of up to four people and allows safe evacuation of injured workers on a stretcher.
Bremco crane man cages are made and finished in painted enamel to the highest standard, have internal lanyard point attachments, and we offer a money back guarantee on all our products.
If you require a custom man cage for your work site, we can tailor make a solution to your specifications with our custom steel fabrication service.
Contact our friendly Bremco team today to find our more or for a free quote.