Bremco engineered and built a fleet of steel fabricated customised large truck pallets for Onesteel Reinforcing in our Australian workshop to the highest safety and design standards.
OneSteel Reinforcing is Australia's premier supplier of steel reinforcing solutions for commercial, residential and civil construction as well as the mining and agriculture industries and manufacturing sector.
We worked closely with the Onesteel team to develop the design, allowing product to be packed in their factory and the bar stillage directly loaded onto their subcontractor delivery company's fleet of trucks.
The Bremco team commenced the project with a site visit to understand Onesteel's current loading procedure which was labourious and inefficient. We took Onesteel's initial concept of using the large truck stillage, which was being used in their Sydney operations, and applied the design process to the Brisbane operations. This involved changes to CAD drawing design and engineering approvals prior to manufacture.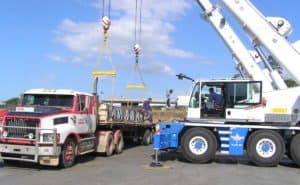 The bar stillages were then load tested by our engineer in accordance with Australian Standard AS4991, requiring double the load capacity as a test of structural integrity. This involved loading the bar stillage with 24 tonne of reinforcing steel to allow for the working load limit of 12 tonne to be achieved.
Bremco is extremely proud that all units achieved their proof-load result in the first round of testing.
This innovative Bremco customised large truck pallets project removed the need for trailers to be left and loaded overnight, lowering the demurrage fee, and substantially reducing Onesteel's cost and time.
The large truck pallet featured in the photo above is 12 metres long x 1180mm wide for a quick turnaround on truck loading. It's rated to 12000Kgs WLL with a 4 leg crane lift, in accordance with Australian Standard AS4991.
Contact the friendly Bremco team to discuss your custom metal fabrication requirements and drawings, or to place your custom order today.