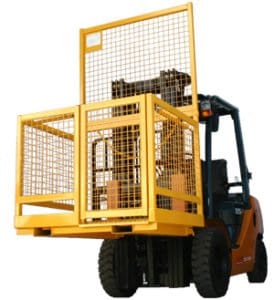 Forklift attachments can make your life easier as they enable a traditional forklift to become a more productive and secure materials handling device.
During the course of one day, a workshop that houses just a few employees can run into any sort of challenge that could be easily resolved with a simple attachment for the forklift.
Even large multinational businesses need to ensure their equipment is being used to its full potential and can solve every challenge that arises.
High access tasks such as work or repairs, for example, can be impossible without a forklift safety cage and a harness.
Risky load stability when transporting large crates calls for forklift extension slippers.
Rolls, cable, coil or carpet can't be moved easily and will require a forklift prong attachment – whether slip on or carriage mounted.
All said and done, however, the buck doesn't stop with simply finding the right tool.
Stringent Occupational Health and Safety requirements mean that all forklift cages, jibs, spreader beams – in fact, pretty much anything that could be attached to a forklift – need to comply with the requirements of Australian Standards.
This can mean AS2359, AS1891 or AS4991 just to name a couple. These standards can vary according to the job at hand, the attachment you've chosen, and the working environment, as well.
If you're unfamiliar with the correct Australian Standard to suit the forklift attachment for the job at hand, it's best to find a manufacturer or supplier who can solve the problem for you.
Their knowledge, understanding and experience of forklift equipment can be invaluable and is usually supported through engineering processes.
What better way to know you're getting a high quality product.
Find someone who knows that every forklift attachment in their series – from forklift tipper bins to forklift hoppers, from forklift container ramps to forklift lifting jibs – is manufactured to suit its relevant Australian Standard.
Even better would be locating a manufacturer like Bremco Metal Fabrications that uses fully engineered designs and Australian steel to ensure that whatever your challenge may be, their business can manufacture a safe and secure solution for your forklift, your products and your business.