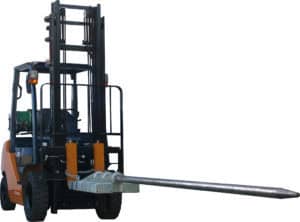 Bremco Carriage Mount and Slip On forklift carpet poles are an ideal way to effectively access and handle a range of items including:
Carpet Rolls
Artificial Turf
Fabrics
Coil Steel
Poly Pipe
Our forklift carpet pole attachments can fit a variety of forklifts and we can also custom make an attachment to suit your forklift and preferred attachment type.
Designed and fully manufactured in our Australian workshop.
Easy to move long, awkward cylinders around your factory or warehouse.
Meet or exceed Australian standards and load capacities.
We take pride in our work and offer a money back guarantee on all our products.
Talk to our friendly Bremco team today to find out more about our Australia-wide delivery, get a quote, or discuss your custom carpet pole fabrication requirements. You can also view some of the custom made steel products we have produced for our customers.