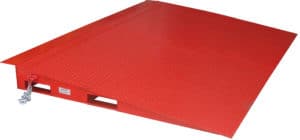 Engineered and built in our Australian factory, Bremco forklift container ramps are designed to access shipping containers, and provide options including self-leveling and pallet truck access.
We have both folding and fixed ramps:
Folding Ramp
The Bremco bi-fold container ramp offers a unique way to access standard shipping containers, allowing forklift operators to approach the container straight on, with fork pockets under the main body of the ramp.
Fixed Ramp
The Bremco fixed container ramp has been designed as a cost-effective alternative to our bi-fold ramp, and is fitted with pockets on each side to allow side shifting to the container door access.
We offer a number of models depending on load requirements, and we can also custom manufacture to your specifications. Australia-wide delivery is available, and Bremco offers a money back guarantee on our products if you are not fully satisfied with your purchase.
Contact us today for a free quote or to find out more about how we can custom build a container ramp to your specifications.
Read our tips for buying a quality container ramp that can take the load.