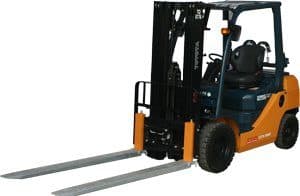 On 19 January 2007, a company was convicted and fined $34,000 after a worker suffered severe crush injuries loading a truck. A 580kg pallet fell, pinning him to the ground.
It was deemed the company had failed to provide a safe working environment and maintain a safe system of work, because of the way in which the pallets were being loaded and stacked on the truck[1].
When it comes to temporarily lengthening your forklift tynes to move larger loads safely, you cannot go past a set of fully certified, load tested and guaranteed forklift extension slippers.
Well made forklift extension slippers are a safe, secure and economically sound solution to loading and unloading vehicles.
Car yards, warehouses and distribution centres alike can take advantage of forklift extension slippers, especially when used safely. With a set of 2.4m long extension slippers, for example, a standard forklift can safely reach across the width of a truck to pick up an awkward load with minimal risk.
Consider the capacity of your fork truck (and its counterweight) when selecting your forklift extension slippers. Find a supplier or manufacturer who can help you understand the class, length, weight and carrying capacity of both your forklift and the extension slippers you require. This will ensure that your yard and workshop constantly abide by the rigorous industry benchmarks set by Australian Standards.
Forklift extension slippers can help you as long as you establish what your fork truck can carry, and make sure that you don't exceed 167% of your supporting tyne's length.
What's more, a good set of forklift extension slippers can be suited to ensure that when you downgrade the capacity of your forklift, you don't put your company and your employees at risk of harm or liability.
If you aren't sure of the proper protocol, don't be afraid to check with the professionals to make sure you find a set of forklift extension slippers that both helps your company's productivity, and protects you from liability.
Keeping your workers busy and safe is easy with the right forklift extension slippers.
---
[1] Government of South Australia, SafeWork SA