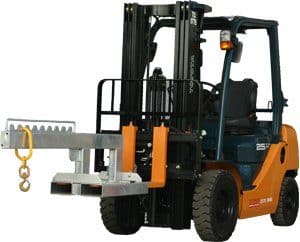 Bremco forklift jibs allow your forklift to sling loads for safe vertical lifting of awkward, long or heavy loads with ease and accuracy.
We manufacture a range of quality, Australian designed and made forklift jibs from standard design to heavy duty units for large and dedicated tasks:
1. Economy Jibs
An inexpensive way to convert your forklift into a small crane to lift and transport heavy and awkward items around the workshop or yard.
2. Fixed and Adjustable Swing Jibs
To lift and reach with efficiency and manoeuvre items into confined spaces.
3. Heavy Duty Economy and Extension Jibs
For heavy duty, dedicated lifting.
4. Forklift Towball Attachment
Provides a way of using your forklift for light duty lifting of trailers which may otherwise be difficult and awkward to achieve.
We can also custom fabricate a forklift jib to your requirements with our custom metal fabrication service in our Australian factory. We offer a money back guarantee on all our products and can deliver Australia-wide. Contact us today for a free quote or to find out more.
When to Use a Forklift Jib
Forklift jibs are designed to slide and secure easily onto forklift tines, and their purpose is to easily attach to, lift, and transport heavy, awkward and long loads. A forklift jib can be used in factories, warehouses, construction sites and workshops, and can be custom made to suit a particular job or workplace task.
Types of Forklift Jibs
Economy Jibs
Fixed and Adjustable Swing Jibs
Heavy Duty Economy and Extension Jibs
Benefits of a Forklift Jib
Increase Productivity
A forklift jib attachment offers worksites the ability to increase productivity, as it gives the forklift truck the ability to efficiently and safely manoeuvre heavy and awkward loads.
Improve Safety
Safe operation of a forklift jib by a trained operator can improve worksite safety through the safe movement of loads.
Reduce Labour Costs
Worksite efficiency improves labour costs, and forklift jib attachments can speed up the movement of materials and also reduce the need for additional machinery and labour.