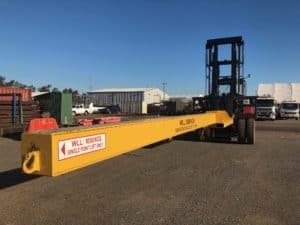 Traditionally, long product loads like steel, timber and poly are stored length ways for transport in shipping containers to minimise weather damage and maximise use of space.
Whilst this is theoretically an efficient way to transport, often shipping container packing is haphazard, making it very challenging to unpack these long loads.
Manual Unloading
Manual unloading of these containers can take hours, resulting in expensive labour costs, and this is cost has often not been factored in to the product cost.
Manual unloading can also be a significant safety issue if workers have to climb into shipping containers to unload product that hasn't been stored correctly; the load can shift or fall, potentially injuring workers. A recent Sydney shipping container accident resulted in two deaths and one serious injury.
Crane Boom Length Unloading
Another way to unload such product is to use a crane, unloading with the boom length. Although effective, this can be a costly exercise, as crane hire is expensive and you will be charged for travel time as well as product unloading.
Forklift Unpack Jib Unloading: An efficient alternative
An effective alternative is to use a forklift truck with an 'forklift unpack jib' attachment, which allows the operator to lift and move the long shipper container load safely and efficiently, without the down time costs of a mobile crane, or the costs and risks of doing it by hand.
Bremco Metal Products has been working closely with oil and gas, reinforcing steel, and irrigation product clients to manufacture fit for purpose forklift unpack jibs. These jibs are engineered, designed and load tested to Australian Standards, and are rated to a specific load length and capacity, custom manufactured for each job.
For more information about custom forklift unpack jibs and other quality forklift attachments, contact the Bremco engineering team today.
Read more about the safe unpacking of containers.