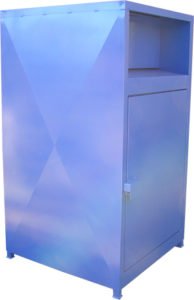 Sadly, vandalism of charity donation bins and theft of donated goods is a major issue for many Australian charities. Charities need to protect donation bins to minimise loss and damage.
Stories of charity bin theft are frequent, and in some areas, stealing from charity bins has become so common that charities have been forced to hire security guards to protect their charity bin donations.
Stolen or damaged donations cost charities dearly. Vandalism is costly, as the charity has the expense of having to fix or replace bins.
Charities can counter these problems buy purchasing a donation bin that is:
Theft resistant
Purchase a bin with an over-centre entry hatch and locking door to minimise the ability to steal or damage donated items.
Weatherproof
Donations bins with folded door section panels allow a weatherproof seal on the door and latch entry area.
Bremco, an experienced Australian metal fabricator, manufactures quality and tough theft-resistant and weatherproof charity donation bins.
Bremco bins are suitable for all types of donation and can be painted any colour using a high quality enamel coating, and have a sturdy steel frame, lock box for safety, and pull down door for easy deposit of donations. Standard donation bins have a footprint of 1000mm square and an overall height of 1800mm, however, the bins can be custom designed and fabricated to suit particular charity requirements.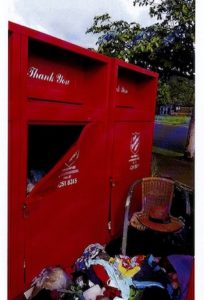 Bremco has manufactured donations bins for many well known Australian charities including St Vincent De Paul, The Salvation Army, Endeavour Foundation, and Lifeline. Bremco has also worked with charities in vulnerable areas to repair and provide additional strength to the door to make it tamper proof. They are currently assisting St Vincent De Paul to repair and reinforce damaged donation bins.
To find out more about how Bremco can help you to protect donation bins to save your valuable charity dollars, contact the friendly Bremco team today.