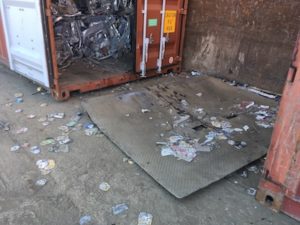 Container Ramps are an essential tool in providing safe, effective and efficient access to unload or load your shipping container. Ensuring you use a quality container ramp is critical to fast and efficient processes.
Many companies get caught out by purchasing 'cheap' imported ramps that are under capacity or made of inferior steel. This results in the ramp collapsing under the weight of a forklift and its heavy load.
We've put together a quick checklist to help you identify quality container ramps to ensure that the next container ramp you purchase will safely withstand the heaviest of loads.
How to select a quality container ramp:
Only purchase a ramp that is manufactured using high quality, welded steel to Australian Standard AS1554.
Ensure the ramp is constructed with a minimum of 5mm checker plate decking.
Ensure the ramp has support ribs which are a maximum distance of 400mm apart (the closer they are, the better the structural integrity)
Buy a ramp that comes with locking chain and hook to attach to the container
Request the ramp be tagged so it can be added to your WH&S lifting register.
Bremco Metal Products, an Australian metal fabricator, engineers and manufactures quality container ramps that are heavy duty, welded and built to last. Bremco offer two different types of ramps:
Fixed
Bremco's fixed container ramp has been designed with a fixed frame as an alternative to the bi-fold ramp. It is fitted with pockets on each side to allow side shifting to the container door access.
Folding (Bi-fold)
The Bremco folding (bi-fold) container ramp is designed in a unique way to allow the forklift operator to approach the container straight on, with fork pockets under the main body of the ramp. It will also self-levelse, and comes in three different load capacities.
All Bremco container ramps are designed and made in their Australian factory, with a minimum of 5mm checker plate decking and support ribs spaced at 360mm apart. They can also custom manufacture a container ramp to suit your requirements.
Don't get caught out by a dodgy container ramp – purchasing a heavy duty, quality container ramp could save you time, money and possibly your next shipping container load!