Purchasing cheap imported cages and skip bins for crane lifting is a tempting option, however, there are many inherent risks involved in using potentially non-compliant Crane Lifting Cages. Not only is it difficult to judge the quality of the product, you also need to consider the potential financial and legal implications of your purchase when using it in Australia.
Obligation to meet Australian Standards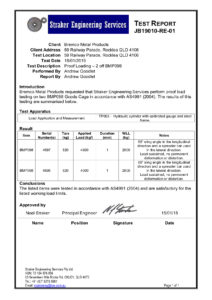 To use a crane lifting cage or bin on an Australian construction site, you must be able to provide a Proof Load Certificate of Conformance to Australian Standard AS4991 (Lifting Devices). This standard demands that every attachment be proof-load tested after manufacture. For crane man cages, the standards are more rigorous (Australian Standard AS1418.17) and require a more robust testing regime and design registration with State Government.
Worksite safety officers will request a testing safety certificate and the lifting equipment will need to be compliance-tagged by the manufacturer before it will be allowed to operate on site.
Cost of Testing
Every lifting device must undergo testing to meet the Australian Standard. Previously, product batch testing (e.g. testing only one of the 30 units manufactured) was allowed, however, revised Australian Standards now require that EVERY item manufactured is tested in accordance to the workshop drawings and engineering design.
On average, a single test costs approximately $350-$500, and although testing of multiple units provides some cost savings per unit, it can still add up to a significant spend.
The testing regime required is the equivalent of 10,000 lifts in real life, providing that there is no damage or structural wear and tear.
The Risks of Using Faulty or Non-Compliant Lifting Equipment
There are numerous and significant risks associated with using faulty or non-compliant lifting equipment, including:
1. Criminal Prosecution
Strict Australian Workplace Health and Safety laws mean that all those involved in the compliance process have an obligation to ensure workplace safety, and individuals, duty holders and corporations and can face severe fines and criminal prosecution if they fail to meet their WH&S obligations.
Manslaughter charges were recently laid after a fatal workplace incident in Canberra, along with numerous other charges including reckless conduct, and failure to comply with a workplace health and safety duty.
2. Fines
Companies, duty holders and individuals can also face significant fines under the Work Health and Safety Act. Read more about the penalties for breaches to work health and safety laws.
3. Goods and Property Damage
If a crane lifting device fails, it can damage goods in the load, as well as any property the collapsed load falls on. Whilst many Australian companies rely on insurance to cover such a loss, increasingly, insurance companies are denying indemnity payouts if it can be proven the incident was a direct or indirect result of the claimant failing to comply with Australian Standards.
Recently, a restaurant experienced significant water damage due to defective plumbing works. The restaurant lodged an insurance claim, however, it was denied indemnity insurance on appeal after it was proven that the plumbing works were defective and the restaurant fit-out plumbing failed to comply with Australian Standards.
4. Worksite delays
If lifting equipment is found to be defective or non-compliant, it can no longer be used onsite until it is repaired or replaced, potentially resulting in construction delays. Workers also have the right to stop work if they believe they are in danger.
Of course, if a lifting incident occurs, work must be stopped and a strict WH&S investigation process followed. For serious incidents, a police investigation and criminal charges may also be laid, as discussed above.
5. Cost of Retesting
If lifting equipment is found to be defective, or if a Proof Load Certificate of Conformance to Australian Standards cannot be produced, the lifting equipment must undergo the cost of re-testing. In the case of defective equipment purchased overseas, what do you do next?
6. Loss of Reputation and Business Opportunities
If your company fails to comply with lifting equipment standards, it may be at risk of loss of reputation, loss of public tender, and loss of future business.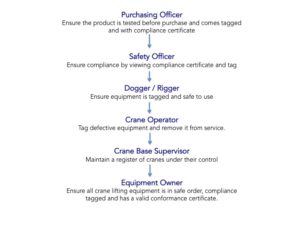 The Compliance Process
A specific WH&S compliance process exists for crane operation and lifting devices, clearly stating the chain of command responsibilities of all employees involved in the process.
Read detailed Crane Safe Use procedures and responsibilities.
Purchasing Quality Crane Lifting Equipment
When purchasing crane lifting equipment, always buy from a quality Australian metal fabricator that manufactures to Australian Standards. Bremco Metal Products prides itself on producing quality Australian made equipment that undergoes a robust testing regime: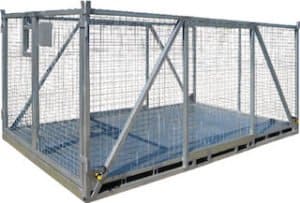 Utilise lifting company testing rigs that allows testing up to 100T load capacity
Use hydraulic testing rigs with load cells (photo)
Use dead weights to maximise load pressure
Once the crane lifting product has passed all testing customers will then Issued with a Proof Load Certificate of Conformance to Australian Standards, and a compliance tag will also be secured to your product.
Contact Bremco today for a free quote or to order your crane lifting equipment.