Safety is the key consideration in every workplace, and being safe at work is the responsibility of both the employer and employees. Bremco has put together some tips to reduce the most common workplace injuries to help make your workplace safer.
Believe it or not, back strain and lifting injuries are the most common Australian workplace incidents. In warehouses and factories these are often the result of incorrect manual handling with use of equipment such as warehouse trolleys, forklifts and drum handling.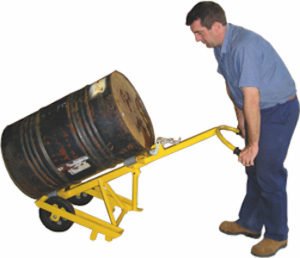 There are many reasons for such accidents, but the most common include:
Lack of training
Neglecting safety procedures
Unsafe equipment
Overconfidence
Taking shortcuts
Lack of planning
Mental distraction and fatigue
Cluttered or disorganised work environment
Developing and maintaining a safe work culture though quality training, equipment, safety procedures, and the correct response to workplace incidents, can greatly reduce these risks.
These are some steps to help you minimise or (ideally) prevent common workplace injuries like lifting and straining:
Conduct Safety Training
Provide professional, relevant and regular safety training for all staff
Provide manual handling training for employers
Provide machinery training and ensure employees hold the appropriate licence (where required).
Ensure employees understand their safety responsibilities and obligations
Provide regular safety procedure briefings to all staff
Implement Safety Procedures
Complete a thorough workplace risk assessment and implement safety procedures for all at-risk tasks. We've outlined below a five-step guide to conducting a risk assessment.
Employees should wear appropriate clothing and footwear at all times
Ensure the workplace is free from clutter and hazards
Ensure employees complete a risk assessment before commencing new tasks. This applies to both experienced employees commencing a new task and new employees undertaking a particular task for the first time.
Never allow employees to operate machinery or undertake other risky tasks when fatigued or under the influence of drugs or alcohol.
Use mechanical aids where ever possible to eliminate any manual handing incidents or injuries
Here are some very simple manual handling safety procedures to get you started:
Firstly, ensure you have the correct mechanical manual handling aids on hand.
When moving a load make sure your pathway is clear
Make sure the load is close to your body and bend at your knees.
Don't use your lower back to lift the load
Avoid any leaning or twisting while moving a load
Remember it is easier to push a load rather than pull a load.
Although there are no fixed rules and obviously risks vary greatly between workplaces, below are five steps to guide the risk assessment process. For more complex or high risk tasks, it would be prudent to engage a qualified Workplace Health and Safety Officer to assist or conduct the risk assessment.
Identify hazards
Decide who might be harmed and how
Evaluate the risks and decide on control measures
Record your findings and implement them
Review your assessment and update if necessary
Safe Work Australia provides detailed information and guides to conducting risk assessments in Australian workplaces.
Purchase and maintain quality equipment
Ensure mechanical aid lifting equipment such as forklift attachments, crane lifting equipment, drum handling equipment and warehouse trolleys meet Australian Safety Standards.

Use a Scissor Lift Trolley to prevent back strain

Ensure you have the appropriate equipment for a specific task. There are handy online tools available such as forklift load capacity calculators to ensure you have the correct equipment for the load that requires lifting or moving.
Complete regular maintenance checks on equipment to ensure it is well maintained
Conduct daily checks to ensure equipment is without fault and is in good working order
When purchasing lifting equipment look for the following:
The product meets Australian Standards. Quality factory and warehouse trolleys such as flat bed or scissor lift trolleys, warehouse order picking or multi shelf trolleys need to meet Australian Standard AS3990 (Mechanical Steel Work)
Forklift Attachments such as jibs, safety cages and any lifting devices need to comply to Australian Standard AS2359
Always purchase equipment from a reputable supplier. Bremco, an experienced metal fabrication company, manufacturers quality, Australia made materials lifting and handling equipment such as forklift attachments, crane attachments, drum handling and warehouse trolleys. Products meet Australian Safety Standards, and they can even help you design and build a custom fabrication solution so you have exactly the right product for your warehouse or factory and deliver it to your doorstep.
Developing and maintaining a safe workplace requires commitment and effort, but when you consider the costs involved in workplace injuries, lost work time, compensation, and other long term effects such as mental health issues, reducing common workplace injuries keeps your employees safe and will pay dividends in the long term.