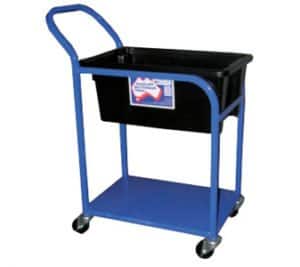 Every day, hundreds of different tasks are completed by people in all sectors, all requiring the use of a load-shifting trolley system.
Designers and manufacturers continue to produce a variety of warehouse trolleys in response to this demand, meaning that when it comes time to buy, the selection can be overwhelming.
Choosing the right trolley can make all the difference to the operations at hand (and the profit gained performing them).
The myriad of trolleys on the market is constantly changing and evolving to suit growing demand. There are designs and styles to suit all situations and purposes – collections of different cylinder trolleys, sack trucks, couriers and order pickers, just to name a few.
It is important, therefore, to ensure that what you're purchasing is suitable for what you're planning to carry.
Although there are no current Australian Standards* guiding the manufacture of trolleys, there have been many studies into safe and recommended trolley design.
Lawson, Potiki and Watson (1994, p. 55) found that hand-pushed trolleys should be at least 80mm narrower than the narrowest doorway, while towed trolleys should be 500mm narrower (more, if towed in a train).
When purchasing a new trolley, Drury (2010, p.33) advises selecting a strong and rugged construction, with steel parts well-protected and wheels that reflect the ground conditions.
This means selecting small swivel wheels for interior environments, and larger-diameter wheels with pneumatic tyres for areas where the ground is uneven or muddy and the loads are likely to be heavy.
Lawson, Potiki and Watson (1994, p. 55) state that trolley length should be between 1.5 to 2 times the width; otherwise it will not track smoothly around corners. Also, don't avoid investigating or experimenting when seeking out the best castor arrangements to suit your particular needs.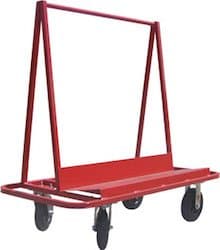 Both Drury (2010, p. 33) and Lawson, Potiki and Watson (1994, p. 55) advise to check the various heights of your trolley before deciding on your purchase. This means checking for appropriate loading heights, and convenient handle heights for pushing/pulling the cart or barrow. It is advised that a maximum height of 1400mm (including the goods to be carried) is appropriate to enable a clear line of sight (Lawson, Potiki and Watson, 1994, p. 55) (Drury, 2010, p. 33).
"As a rough guide, the weight of the trolley is usually 15% to 20% of the load it is to carry.
"For the castor to function properly, the frame of the trolley must be strong enough to hold the castor head truly vertical so it can swivel freely.
"The frame must not bend under the impacts that inevitably occur. The most commom cause of castors not tracking properly is that the mounting has twisted off square." – Fallshaw Wheels and Castors
References
Drury, S (2010) Trolleys In Horticulture Week Vol. 1, No. 1 pages 33 – 35.
Lawson, J, Potiki, J & Watson, H (1994) Ergonomic Guidelines for Manually- Handed Trolleys in the Health Industry Published by the Central Sydney Health Service, NSW.
*Current Australian Standards = AS2615 applies only to hydraulic trolley jacks and AS3847 applies only to standard shopping trolleys, specifically for guidelines when transporting children.