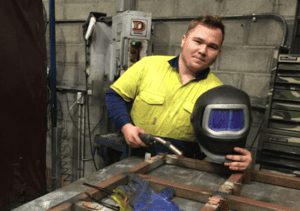 Ryan Dawson, a fourth year boilermaker apprentice at Bremco Metal Products, recently had the opportunity to showcase his welding competition skills at the TAFE WorldSkills Competition, Australia's biggest and most prestigious skills competition.
It aims to encourage Australians to celebrate vocational education and training, to shift perceptions and create the understanding that to learn a skill, to choose a skill-based career, is one of the most important decisions a young person and their family will ever make.
WorldSkills competitions are conducted at a regional, national and international level, and are aligned to national training packages. VET in school students, students, apprentices, and trainees can enter the Regionals, the entry route into the Nationals, Australia's biggest vocational education and excellence competition.
Taking place around the country in 31 regions, these competitions see entrants compete for Gold, Silver and Bronze medals in their chosen skill. It's also is an incredible opportunity for young people to gain new skills, develop self confidence, and showcase their trade and skill talents.
By encouraging Ryan to compete at the 2017 Regional WorldSkills Competition program, we were able to not only showcase Ryan's ability in the trade, but also display Bremco Metal Product's willingness to foster excellence, and our commitment to the young people of our community.
Bremco was honoured to receive recognition at the WorldSkills event, where excellence and quality is the number one priority.
Ryan competed against fellow apprentices and skilled professionals in a one day regional welding competition designed to select the person who could demonstrate the best skills of the profession.
The welding competition exercises Ryan undertook included reviewing drawings, completing pre-plating, then undertaking 3 x 1 hour welding jobs.
The jobs were:
Manual metal arc welding (stick welding) using low hydrogen electrodes (AS4855-B-E49)
Pre-beveled 10mm thick steel plate to AS3678
Positional welding of the plate sections – overhead weld 4G / vertical up 3G / horizontal butt 2G in accordance with AS1554 (Structural steel welding).
All work had to be no more than 2mm reinforcement, have 100% penetration and meet Australian Standard AS1796 (Certification of Welders and Welding).
Whilst Ryan did not win the competition, he received high honours for his ability and knowledge of the trade. We would like to congratulate Ryan on a job well done and would encourage other Australian manufacturers to get behind this great WorldSkills Australia event.
Learn more about WorldSkills Australia and the valuable contribution they make to nurturing the skills and talent of young Australians. You can also register your staff to compete in the next regional competition.