Mobile cranes are essential equipment at construction sites, logistics facilities, and warehouses, and many industries rely on cranes to manage important daily tasks and keep business and construction productive.
Even though they are a constant presence in many work environments, it's important to not ignore the potential danger cranes pose if not operated properly.
In April 2019 in Melbourne, a crane carrying a premade home flipped and fell on two houses, causing residents to flee and injuring two workers.
And in February 2020, a crane operator involved in the death of a worker at an Australia construction site plead guilty to reckless conduct exposing persons to a risk of serious injury or death, after the crane he was operating rolled and killed a construction worker.
Following crane best practice operating procedures plays a vital role in safe crane operations, and reduces the risk of workplace accidents. Follow our crane safety tips to keep your workplace safe and operating efficiently.
Crane Safety Tips
1. Use Expert Crane Operators
The operation of a crane is complex and potentially dangerous, and workers must have the necessary skills and capabilities. In Australia, crane operators must undergo specialist training, and receive a statement of attainment and a High Risk License issued by the relevant State authority. They must not only know the equipment inside out, but they also need to be well versed in crane safety procedures.
2. Inspect Equipment and Load Before Operation
Operators must conduct a full inspection of equipment before commencing lifting. This includes mechanical, electrical, structural and hydraulic issues. If equipment appears to be damaged or worn, it must be taken out of service and repaired.
The crane load should also be inspected to guarantee it is properly secured. Confirming that the load does not exceed the limits of the equipment is also crucial for crane operation safety.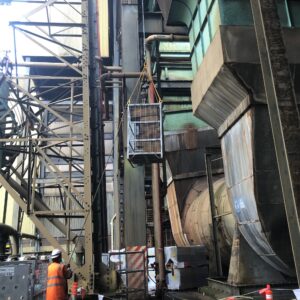 3. Always Check Ground Conditions
Always check ground conditions before any lift operation is started. A crane is as good as the ground it is stood on – weather, such as ice or rain can change ground conditions quite quickly, making jobs inefficient or dangerous.
4. Always check the work environment
Be observant of everything that is happening around you before commencing operations. Workers on the ground need to keep a safe perimeter around cranes at all times, and other work tasks need to be kept at a safe distance. This is a workplace health and safety obligation and needs to be reinforced in safety procedures and briefings.
Also take note of any overhead hazards, particularly when you will be operating the crane close to buildings or in areas where there are power lines.
5. Allow Adequate Time for Crane Planning and Operations
Planning lifting work in advance and allowing for adequate time for lifting jobs can reduce crane risks as it gives you the opportunity to better manage people in a designated area, and allows time for pre-operation checks and inspections, as well as time to complete lifting tasks.
Many accidents are due to carelessness, often from workers rushing through tasks or cutting corners. Allowing adequate time and ensuring safety procedures are followed, can greatly reduce this risk.
6. Review safety checklists or cards before operating the crane
Crane operators are human and can make mistakes, so it's critical that workplace health and safety procedures include written crane safety checklists and protocols. All employees should be encouraged to read these checklists so safety is a constant, top of mind presence in every workplace operating dangerous equipment like cranes.
7. Use Crane Lifting Attachments that meet Australian Standards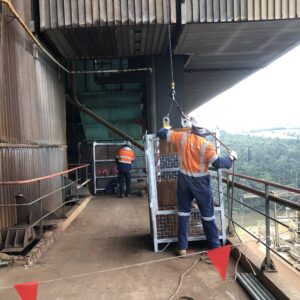 Always buy crane lifting equipment such as crane cages and crane drum handling from a quality Australian metal fabricator that manufactures to Australian Standards. To be used on an Australian worksite, crane lifting equipment needs to pass strict testing, be issued with a Proof Load Certificate of Conformance to Australian Standards, and a compliance tag.
Bremco Metal Products is a quality Australian business that prides itself on producing quality Australian made crane lifting attachment equipment that undergoes a robust testing regime, including:
Utilise lifting company testing rigs that allows testing up to 100T load capacity
Use hydraulic testing rigs with load cells
Use dead weights to maximise load pressure
All Bremco crane lifting products are delivered to customers with a Proof Load Certificate of Conformance to Australian Standards, and a compliance tag secured to your product.
In Summary
Cranes are a constant and important presence in numerous Australian workplaces, which means crane safety should be a vital component of workplace safety and operating procedures. Follow the crane safety tips above to operate your crane safely and productively in your workplace.
Contact Bremco Metal Products today for quality, Australian made crane lifting attachments, built to the highest Australian Standard.