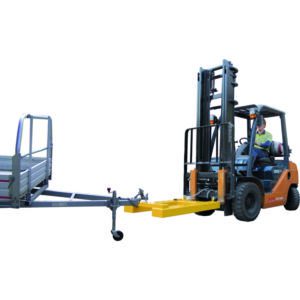 Forklift jib attachments are a common type of attachment for forklift trucks and are designed to slide and secure easily onto forklift tines.
Used to lift and transport heavy, awkward and long loads with ease and accuracy, forklift jibs are frequently used in factories, warehouses, construction sites and workshops.
Types of Forklift Jibs
There are numerous types of forklift jibs, depending on the job required:
1. Economy Jibs
Economy jibs are an inexpensive way to convert your forklift into a small crane to lift and transport heavy and awkward items around the workshop or yard.
2. Fixed and Adjustable Swing Jibs
Fixed jibs are best for repetitive tasks where adjustments are unnecessary. Adjustable swing jibs are able to adjust to different angles and can be used to lift and reach with efficiency and manoeuvre items into confined spaces.
3. Heavy Duty Economy and Extension Jibs
Extension jibs can be extended to certain lengths, like a telescope. Heavy duty jibs can be used for dedicated lifting of very large and heavy items.
4. Forklift Towball Attachment
A forklift towball attachment provides a way of using your forklift for light duty lifting of trailers which may otherwise be difficult and awkward to achieve.
Benefits of Forklift Jibs
1. Increase Productivity
A forklift jib offers worksites such as factories and warehouses the ability to efficiently and quickly manoeuvre heavy and awkward loads, increasing productivity.
2. Reduce Labour Costs
With the ability to speed up the movement of items, forklift jibs can reduce the need for additional machinery and labour.
3. Improve Safety
When forklifts are used by a trained operator familiar in the use of jib attachments, they can improve safety through the safe movement of loads.
Working Load Limits of Forklift Jibs
Forklift jibs are made to a certain working load limit (WLL), which will be clearly displayed on the attachment. The weight of the load must not exceed this working load limit and it is important to remember that a working load limit can be decreased when an adjustable jib is extended or positioned at an angle.
Learn more about how forklift attachments affect a forklift.
Inspecting and Testing
Forklift jibs should be periodically load tested and inspected by a qualified worksite officer.  Forklift license holders must be trained to operate a forklift jib, as the added weight of a forklift jib can potentially overload a forklift, or cause tipping due to a change in the centre of gravity.
Custom Forklift Jibs
Custom forklift jibs can be manufactured to suit a particular application or repetitive workplace task. Always use an expert custom metal fabricator like Bremco Metal Products to custom fabricate a forklift jib to your requirements. This will ensure it meets Australian Standards and is designed, manufactured and tested to the highest quality.
Contact the friendly Bremco team today for a free quote or to find out more.