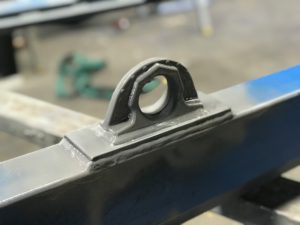 When you use a lifting attachment to lift products via an overhead crane or forklift, how do you know if that piece of equipment has been welded correctly to conform with the relevant Australian Standards?
For example, if you are using a crane cage on a building site, this cage must conform to Australian Standard AS4991 (Lifting Devices). This standard demands that every attachment be proof-load tested after manufacture.
Here are the guidelines for proof-load testing:
Up to 10 t    – 2 x working load limit or rated capacity
10-160t        – 1.04 x working load limit or rated capacity + 9.6t
Above 160t  – 1.1 x working load limit or rated capacity.
Similarly, forklift attachments must conform to Australian Standards. Bremco, an Australian Forklift Attachment metal fabricator, has an engineer that will also ensure their forklift attachment design meets:
Australian Standard AS2359.1 (forklift attachments)
along with AS1170 (load capacity) and
AS3990 (mechanical equipment).
An important component of these standards are the quality of the welded joints, where there is stress and strain on lifting eyes or forklift lifting points. You need to be confident that the attachment manufacturer has followed the correct welding procedures, set out in the workshop detailing signed off by a competent engineer.
For example, a lifting eye on a site bin that will be lifted by a tower crane that is rated to 2000 kg, should have a set of workshop drawings available showing steel sizes along with weld symbols that an engineer has approved to perform the task.
Part of this process might involve welded joints being subject to non-destructive weld testing (NDT) as a final inspection on the welded joint.
Ideally, the tradesperson welding the lifting plates on the site bin would have had his or her welds previously qualified and checked by a registered NATA laboratory, proving the weld procedure and the welder qualification.
How Often Should I Inspect My Lifting Equipment
As a rule of thumb, lifting equipment should be placed on your Lifting Equipment Register and ideally given an internal serial number for reference for ongoing checking. This is similar to the way you would maintain a fire equipment register in a factory or warehouse environment.
Once you've established your Lifting Equipment Register, you are then responsible to have the equipment checked annually (every 12 months) by an authorised company such as Bullivants, A. Noble & Sons, or John L Robertson.
Part of the lifting equipment inspection will involve visual or NDT testing of welded joints, especially around the lifting eyes / area.
At Bremco Metal Products, a quality Australian metal fabricator, all products are welded correctly to the highest standard and regularly trade weld tested in accordance with Australian Standards. Contact Bremco today for a product quote or to discuss your metal fabrication product requirements.