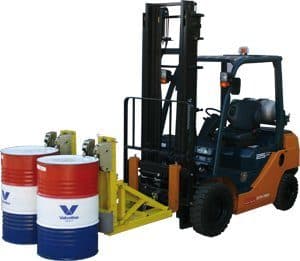 With a variety of forklift drum handling attachments, Bremco can help you move your steel drums with our automatic drum clamp, save your back and make lifting, raising and tilting a breeze with our forklift drum rotators, invert your drums for racking and horizontal storage with our drum inverter, or manage high volume lifting with our heavy drum lifter.
Our  range includes:
Drum Clamps
Handlers
Inverters
Lifters
Rotators
Bremco has a product to suit even the most challenging forklift drum handling jobs.
Bremco is the Australian distributor of the USA-designed Liftomatic Drum Handling Equipment, including the famous 'Parrot Beak' drum clamp.
Our forklift attachment equipment is engineered and manufactured to the highest standard in our Australian factory to ensure drum handling in your workplace is a safe and efficient activity.
We can also custom fabricate metal drum handling equipment to suit your specific requirements.
Contact Us today for a free quote or to find out more about our Australia-wide delivery and money back guarantee.